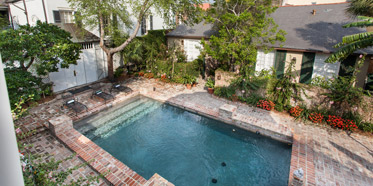 The Audubon Cottages transport guests to the charm and elegance of old New Orleans. A relaxing retreat in the French Quarter, each one and two bedroom suite offers distinct accommodations that will undoubtedly be part of your unforgettable experience in New Orleans. Guests may check-in at the Dauphine Orleans Hotel or arrange to meet our French Quarter Butler at the Audubon Cottages' entrance. All Audubon Cottages' guests enjoy access to the Dauphine Orleans' many amenities including secure, on-site, valet parking; welcome beverage at May Baily's Place; fitness center access and daily Continental breakfast.
The historic Audubon Cottages were built shortly after two great fires destroyed most of the city in the late eighteenth century. Named in honor of naturalist and painter John James Audubon, the Audubon Cottages are are a collection of seven charming and private cottages that surround what is believed to be the oldest pool in the French Quarter. These French Quarter cottages reflect the charm of old New Orleans while offering modern amenities and a high level of service.
Location Summary
In the heart of the French Quarter Historic District, one block off of Bourbon Street and only three short blocks to Jackson Square and the Mississippi River.
Directions to Hotel
From Interste ten, take French Quarter Exit, continue south on Basin Street, take left at Toulouse heading into the French Quarter, then right onto Dauphine Street to 509. Check in and parking is at 415 Dauphine - the next block.